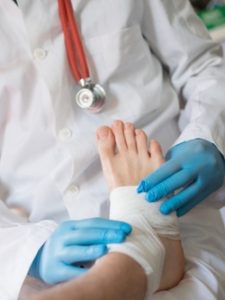 Many patients choose to
treat a sprained ankle
on their own at home. But when the treatment isn't working as effectively as first thought they often visit a physician. When a patient is unsure whether they have broken a bone or just a sprained ligament, it's common to seek medical attention.
There tend to be 3 severity levels for sprained ankles:
Mild – A mild stretch of the ligament which usually resolves in 2-7 days.
Moderate – Partial tear of the ligament. The ankle is moderately swollen and very painful.
Severe – Complete rupture of the ligament. Significant swelling. May not be that painful. The ankle will feel unstable.
Continue reading "5 Things to Know About Sprained Ankle Treatment"