Game Ready Equine System
Game Ready® Equine is the secret weapon of top riders and veterinarians for preventing injury in their horses and speeding recovery from a multitude of ailments. The Game Ready System is used for post-workout therapy, chronic lameness, acute lameness, cellulitis, tendonitis, pre- and post-operative care, bowed tendons, stocked-up legs, wind puffs, and more. Delivering dry cold and active compression, Game Ready Equine utilizes the same physical therapy and athletic training principles relied on by human athletes, calling for the use of RICE (Rest, Ice, Compression, Elevation).
It's hard to watch your horse hurting. Maybe you'd like to prevent injuries altogether or help your horse recover as quickly as possible. There's nothing you'd like more than to get back in the ring now.
The Science Behind Game Ready Equine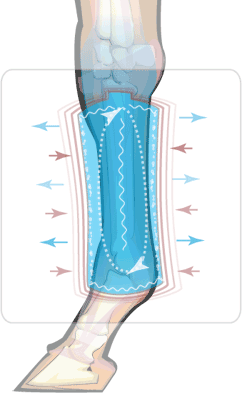 Game Ready Equine effectively and efficiently fills the treatment gap with a patented technology that simultaneously delivers dry cold and active compression.
The Goals
Accelerated reduction of swelling
Minimized pain
Prevention of greater tissue damage
Faster and better healing
Dual-Action Wraps
Our ergonomic Dual-Action Wraps are engineered using patented spacesuit technology to simultaneously supply active cyclical compression (also called "intermittent compression") and advanced cold therapies — all in one adjustable system.
Find out more about the science >>>
Extensively Tested On People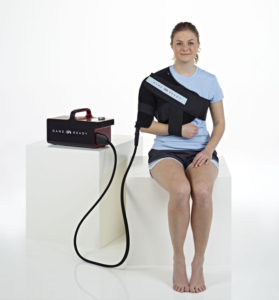 Featuring patented NASA spacesuit technology, Game Ready Equine was developed based on a product being used by more than 90 pro sports teams, 500 professional athletes, and 160 universities in the US. The equine product was designed with the help of the United States Equestrian Team and leading veterinarians specifically to meet the needs of horses.
The System – How To Buy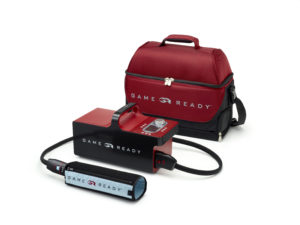 Sports Health understands that different horse owners have different needs. Some riders are looking for a targeted solution that will help their horse recover from a one-time injury or surgery, and others are looking for ongoing injury care or prevention. What-ever your need we have you covered.
All components of the Game Ready Equine System can be purchased individually. To get started all you need is the Control Unit, Connector Hose and 1 Wrap. Two pre-packaged kits are available in popular combinations to make it easy.