Provides an Effective, Drug-Free Way to Speed Recovery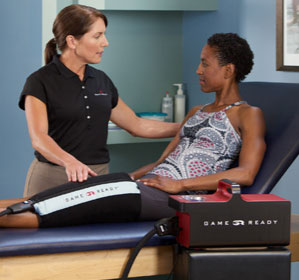 Whether you are a surgery patient in post-op rehab or an elite athlete with a sports injury, you want to get back into action as quickly as possible. For you, passively treating symptoms isn't enough. You want to proactively accelerate your recovery.
Thousands of physicians, physical therapists, and teams in virtually every professional sport choose Game Ready because:
In a class of its own – clinically proven results.

Patients report a better care experience.

Reduces pain and swelling without medications.

Comfortable and safe – no risk of tissue damage.

Easy to operate.
Physician-Recommended Technology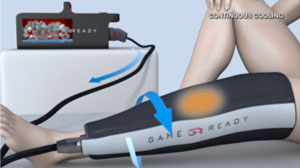 Game Ready features patented ACCEL® Technology (Active Compression and Cold Exchange Loop) to help accelerate your recovery. Integrated active compression and cold therapies reduce pain and swelling, reduce muscle spasms, enhance lymphatic function, and encourage oxygenated blood flow – all to stimulate natural healing.
Clinically Proven Performance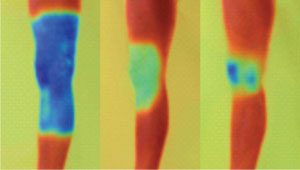 For acute musculoskeletal injury and orthopedic surgery recovery, nothing else works proactively like Game Ready. Compared to traditional RICE (Rest–Ice–Compression–Elevation) applications, the Game Ready System offers more therapeutic benefits. For you, that means less pain without medications and a faster return to the activities you love.
Product Features and Support Make It Easy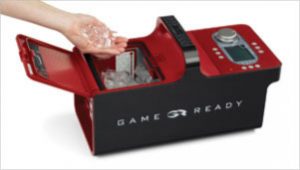 The Game Ready System is simple to use. Controls for the GRPro 2.1 are intuitive. Convenient settings automate alternating treatment and "rest" cycles to make it easy to follow your doctor's orders. Complete how-to videos, user guides, and customer support services assure hassle-free operation and easy treatments.

Learn how Game Ready works >>
Learn how to use a Game Ready >>
Rent a Game Ready >>
Results That Speak for Themselves

Game Ready is so effective, it can be found in the most prestigious orthopedic centers, physical therapy clinics, and athletic training facilities. In fact, the treatment system is relied on by Olympic athletes, special military forces, and countless teams from virtually every professional sport around the world. Better still, people who have used Game Ready overwhelmingly say that it helped speed and improve their recovery.