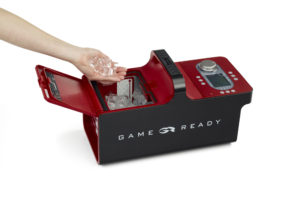 GRPro2.1 Game Ready Control Unit
Say goodbye to traditional methods for icing your horse's legs. No more messy ice boots or muddy wash racks. There is a much more effective and convenient way to treat your horse's injuries and take preventative measures after tough training and workouts.Game Ready® Equine's Accelerated Recovery System delivers safe and optimal temperatures of dry cold therapy in conjunction with active "squeeze and release" compression. The Control Unit allows you to easily adjust pressure and treatment time settings with just the push of a few buttons.
Manuals and How To videos >>>
How it works
The Game Ready Equine Accelerated Recovery System is easy to use. Simply:
Fill the Control Unit with ice and water, then connect to power source.
Secure the appropriate Wraps around the affected body parts.
Connect the Wraps to the Control Unit with a Connector Hose.
Select pressure and timer settings.
Press Start.
Product Details
Adjustable Compression
Three settings of cyclical pneumatic (air) compression or the option of no compression:
High (5 to 75 mm Hg): approximately 2 to 3 minutes of inflation and 1 minute of deflation
Medium (5 to 50 mm Hg): approximately 2 to 3 minutes of inflation and 1 minute of deflation
Low (5 to 15 mm Hg): approximately 4 to 5 minutes of inflation and 1 minute of deflation
No Compression
Temperature
For cold therapy between 1°C to 10°C (when full of ice). Unit continuously cycles water through circumferential Wraps for consistent, longer-lasting cold treatment, even over larger surface areas.
Digital Timer
For convenient management of treatment time, without having to continually monitor the system:
Timer can be set for a specific treatment time, up to 90 minutes; Control Unit automatically shuts off once the treatment time has elapsed.
Battery Pack
Optional Rechargeable Battery Pack provides up to 7 hours of continuous treatment. (AC power adapter is included.)
Portability
The Game Ready Equine Control Unit measures just 190mmW x 406mmL x 197mmH and weighs only 3.3 Kgs (empty). Easy to haul down the barn aisle or load into the trailer, it allows you to provide treatment to your horse on the go or where it's most convenient. The Carry Bag makes traveling with Game Ready Equine even more convenient.
Impact Resistant
Made from the same impact resistant plastic as bullet proof vests for durability.
Care and Storage
The Game Ready Pro 2.1 Equine Control Unit can be cleaned with a mild disinfectant (warm water with mild detergent). Store in the Carry Bag or other protected place. Be sure to remove water and ice and dry before storing.
Purchase >>>